By Marilyn Vinch
What's the first thing you would do if you suddenly became rich and successful? If money was no longer something you had to worry about, what would you spend it on? Like most of us – and certainly most of the rich and successful people before you – you'd spend it on getting somewhere bigger and better to live. After all, where are you going to put all your new possessions if you don't already have a mansion?
It's not a problem too many of us face in our lives, but HomeAdvisor has mapped out the homes that have been lived in by 7 of the most famous people of our times, from their humble childhood beginnings to the mega-mansions they bought at the height of their success, and sometimes back down again.
Bill Gates
The Microsoft co-founder has been one of the richest people on the planet since the 1980s, having made his first million at just 26. His home history shows the path from growing up in a house overlooking Lake Washington to owning a huge mansion in Medina, also overlooking Lake Washington.
Michael Jordan
His basketball career and shoe deals have earned Jordan a large property portfolio, with luxury homes in Chicago, Florida and Charlotte, all very different from his humble roots in Wilmington.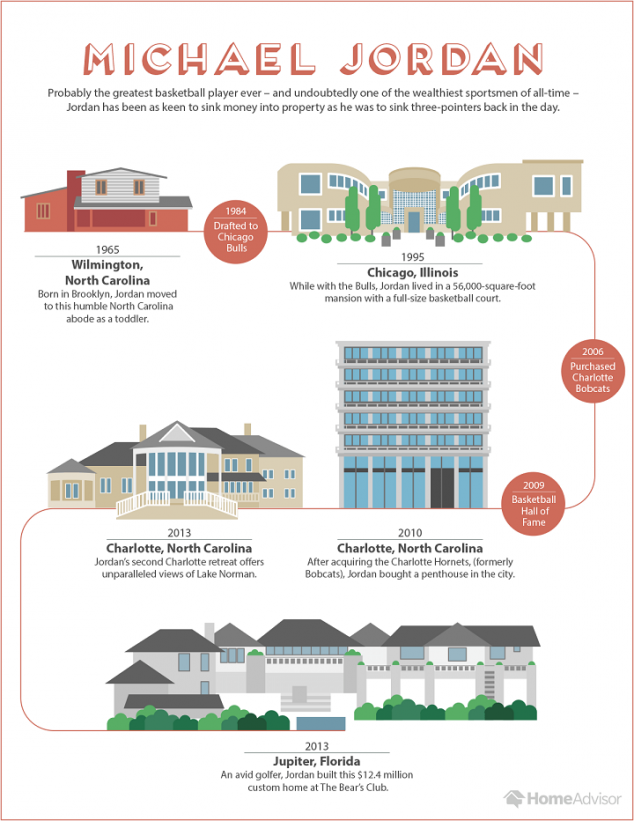 Georgia O'Keeffe
She may not have given her name to a brand of shoes, but O'Keeffe's homes were no less fascinating or impressive, particularly those which inspired and reflected the art she was creating there, culminating in her adobe home in New Mexico.
Oprah Winfrey
Having grown up in a tiny rural home in Mississippi, Oprah's rags to riches tale is shown well in these images of the houses she has bought with the profits from her media empire, not least the high-tech home in Telluride, Colorado.
Michael Jackson
His overcrowded childhood home in Gary, Indiana and his bizarre ranch at Neverland are both parts of Michael Jackson legend, but it's fascinating to imagine him living in some of these other properties in his lifetime.
Paul McCartney
From a terraced house in Liverpool to a $15.5m triplex overlooking Central Park in Manhattan, Paul McCartney's rise to fame and riches can be seen very clearly here. Money can't buy you love, but it can buy you a lot of property.
Ernest Hemingway
Hemingway's homes varied widely in size and location, from Illinois to Cuba, but they were never dull and each home during his career influenced his writing subjects and style.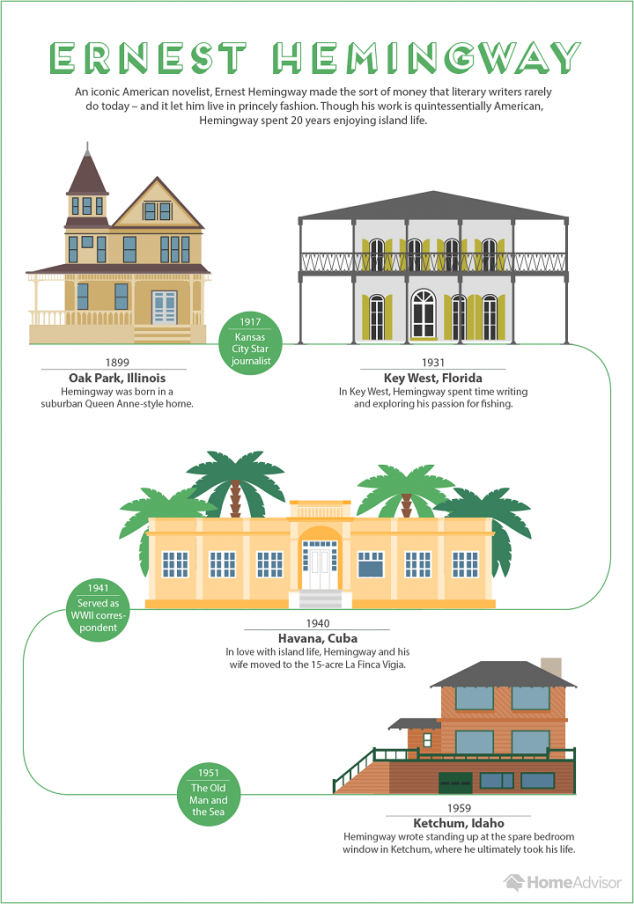 "It wasn't always sprawling estates and luxurious surroundings for these notable individuals, and their homes play a key role in telling their stories. From humble houses in the country and suburbs to multi-million-dollar mansions around the world, the real estate portfolios of these famous people grew with their careers."